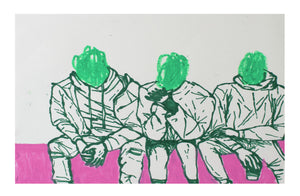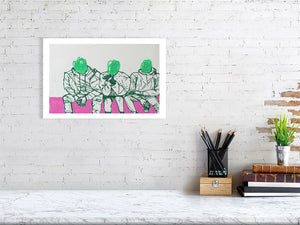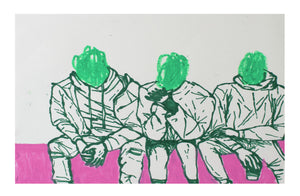 OUTSIDE THE ZONE
Cool kids 2
JEREMY WOLF
The artists figurative works explores themes of identity, power dynamics, and relationships.His recent paintings continue to react to the seismic shifts in the current American political landscape. 
His paintings use imagery injected with historical paintings which draw a line connecting the brutality of the old world and that of our own supposedly more enlightened, connected, and egalitarian age.

Edition produced for the exhibition Feel the fear, everything comes to pass. 
_______
Open Edition
A3 Size approx ( 27.5 X 42cm)
All prints unframed  |  Framing on request
Prints available in various sizes. (Bespoke print sizes by request)
Printed with smooth colour gradients on high quality archival Giclee Hahnemuhle photo rag paper. (380gsm)
 Artist's certificate included  | Signed and numbered 
More information about framing.
UK delivery upto 4 days / overseas upto 10 days
Packaging & delivery included | safe shipping and delivery
For updates, print releases and original artwork by the artist info@outsidethezonegallery.com   

All artworks printed with passion.