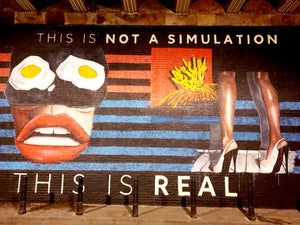 outsidethe_zone
This is real
"This is real"
Acrylic + house paint, spray paint on concrete 
Size: 12m x 6m
Eleanour Baranou work comprises many elements, spanning a mixture of sources coalescing into a single image. Her compositions are uncanny at points filled with deliberate whimsy and thoughtful interventions.
These observations into the nature of the quotidian concerns manifest themselves in work that is highly visually rich and layered in symbolic utterances.
Looking at her collage work in particular, there is a sense of narrative in flux. As is the nature of collage the end image alienates its constituent part's, thus fashioning a new context for the images.
In the process the final signification is encoded and can be seen as subjective.
_______
All prints unframed  |  Framing on request
Prints available in various sizes. (Bespoke print sizes by request)
Printed with smooth colour gradients on high quality archival Giclee Hahnemuhle photo rag paper. (380gsm)
Edition based on print size:
A0 - total cost £300  | edition 50

A1 - total cost £250  | edition 100
A2 - total cost £200  | edition 100
A3 - total cost £100  | edition 200
Artist's certificate included  | Signed and numbered 
More information about framing.
UK delivery upto 4 days / overseas upto 10 days
Packaging & delivery included | safe shipping and delivery
For updates, print releases and original artwork by the artist info@outsidethezonegallery.com   

All artworks printed with passion.