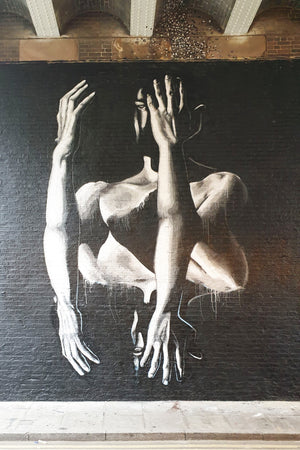 Sam King
"            "
(Fine art mural 7m x 6m)
March- july 2019
Sam's aesthetic is a surreal exploration of underling themes such as philosophy of mind, ontology and art history.
His work is self-effacing, challenging western concepts like the separation of mind and body as urged by figures such as Descartes in his famous cogito. King in doing so enters into a process of physical dissolution of dualist precepts like in his study of Francis Bacon whom, he creates enact then dismembers the composition in particular the eye.
This is significant as it is not only an organ that apprehends the world, but marks a liminal window into each individual's soul. The 'visceral' is what King seeks to engender within the eye and spirit of the individual gazing into his dream like compositions.
_______
All prints unframed  |  Framing on request
Prints available in various sizes. (Bespoke print sizes by request)
Printed with smooth colour gradients on high quality archival Giclee Hahnemuhle photo rag paper. (380gsm)
Edition based on print size:
A0 - total cost £300  | edition 50

A1 - total cost £250  | edition 100
A2 - total cost £200  | edition 100
A3 - total cost £100  | edition 200
Artist's certificate included  | Signed and numbered 
More information about framing.
UK delivery upto 4 days / overseas upto 10 days
Packaging & delivery included | safe shipping and delivery
For updates, print releases and original artwork by the artist info@outsidethezonegallery.com   

All artworks printed with passion.