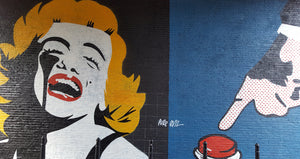 outsidethe_zone
PURE EVIL
The popular cultural sense of hysteria some founded other hysterical are contrasted int his pop mural.
Expressing the disjunctive combination of potential total nuclear destruction with the dissonant laughter of Marilyn Monroe.
Who of course had an affair with John F Kennedy who was known for the standoff with Cuba and the old USSR calling them the 'bay of pigs'
A crisis that did not result in direct nuclear engagement which could have had disastrous effect on mankind..
Follow: @pureevilgallery